Popularity of Data Science 2022
"Data is the oil of 21st century, and
Analytics is the combustion engine"
—- Peter Sondergaard
Data science is the sexiest job of the 21st century, and the popularity of this buzzword is spreading rapidly. It is said that data is the oil of the 21st century as the internet is said the electricity. People with different but relevant backgrounds are joining the field of data science. The enormous popularity of data science is also attracting people from irrelevant backgrounds. In this article, we will discuss data science, the expertise needed to be a data scientist, applications, relevant jobs, and tips to build a career in data science.
Data Science
The buzzword 'data science' was used in a research paper by William Cleveland in 2001. In 2012, Harvard Business Review declared data science as 'the sexiest job of 21st century. Fast forward to today, people from every sector are crazy about data science regarding their business.
Do you have a question in mind about what actually data science is?
A specific definition can not define data science. It depends on the aspect of the field we are working with. The science that can explore and explain data from any kind of source is called data science. Basically, data science is a field where people from different backgrounds work together to turn the data into meaningful insight to decide their respective businesses.
Data Scientist
There is a high debate on the background of being a data scientist. People from computer science or equivalent experience working widely as data scientists while statistics or mathematics background peoples are also claiming them as the proper data scientist.
In general, regardless of their background, those working with data can claim them as a data scientist. Data is spread out everywhere around us, and data scientist's job is to make those data understandable for everyone. The most important challenge is that you need to be a good storyteller and a data scientist.
Data Science and Machine Learning
Data science helps to grab all kinds of data for a specific domain or business, extract valuable data for a particular study, derive powerful insight to make future action. So, data science is more into play with data, making incomprehensive data understandable for different domain users.
Machine learning is a method to learn from data and make decisions by learning from data. So, machine learning is a process to train machine/algorithm by data so that the machine/algorithm can take decision learning from the data.
So, data science extracts incomprehensive data and makes it workable. Machine learning methods use those data to train models/algorithms/machines to predict future learning from those data.
Importance of Data Science
According to a report by IDC, the global data will rise to 175 zettabytes by 2025. Data science empowers various organizations to understand gigantic raw data from different sources and extract key insights to make data-driven decisions for the decision-maker. Nowadays, data science is the key weapon of progress for each and every organization. It is widely used for any kind of industry domain, including healthcare, finance, banking, marketing, sales, e-commerce, telecommunication, etc. The more data a company has, the more they can make accurate decisions. In this context, tech companies are getting big day by respective to others using data science.
Popularity of Data Science
The popularity of data science and machine learning in 2022 is beyond description. Experts of all domains/businesses are using data science and machine learning and using it as the primary weapon of their business to progress.
In recent years, the most popular and common way to grab data is through smartphones and applications. We are providing various kinds of data to the innovative phone companies, mobile apps, or games with our concern or unintentionally. Each and every time, we are providing real-time data to those organizations, and they are developing their product using those data. Data science plays the most vital role in this business.
Healthcare companies are serving their members and providers in many ways. Different companies have different services and different policies. Moreover, all companies store their member and provider data to minimize their cost and maximize their benefits. All the organizations want their members to get enrolled and increase it. Data science helps the organization to get required data to draw some insight that will tell the policymaker about the actual reason for enrollment. The policymaker of the companies follows insight and takes next-based action to get the maximum benefit.
E-commerce is a popular sector all around the world. We buy a product from this sector, give reviews, cancel the order, re-order being over satisfied, share product links to friends and family. All our activities are data for the e-commerce, and they store this data to serve their customer with a better experience and quality product. E-commerce suggests your desired product even though you didn't search it, just observing your activity. Data science and machine learning are totally involved in such a mechanism.
We can see the weather update on our smartphones, television, and other media. The satellite is capturing weather data every second. It captures rainfall data, temperature, wind data, etc. Data science enables those data to forecast the weather for the next days, weeks, or our desired timestamp using a machine learning algorithm.
Data is called the new oil of this century, and data science is like refining those oil and making it usable. So, in recent years the popularity data science is spread out to each and every sectors of business. As a result, data scientist, data engineer, machine learning engineer, AI engineers are dominating in job market.
Popularity of Data Science in Job Market
Data science is one of the most demanding and dominating jobs all over the world. According to a report of 2020 by LinkedIn, data science has about 37% hiring growth over the past three years. The U.S. Bureau of Labor Statistics predict that by 2026 data science job may raise by 28% which is more or less 11.5 million new jobs in this sector. Data science is also competing as a top candidate in glassdoor best job list with median base salary of $120,000 and 4.1 job satisfaction out of 5. All these statistics is just to say that how popular data science is in recent years!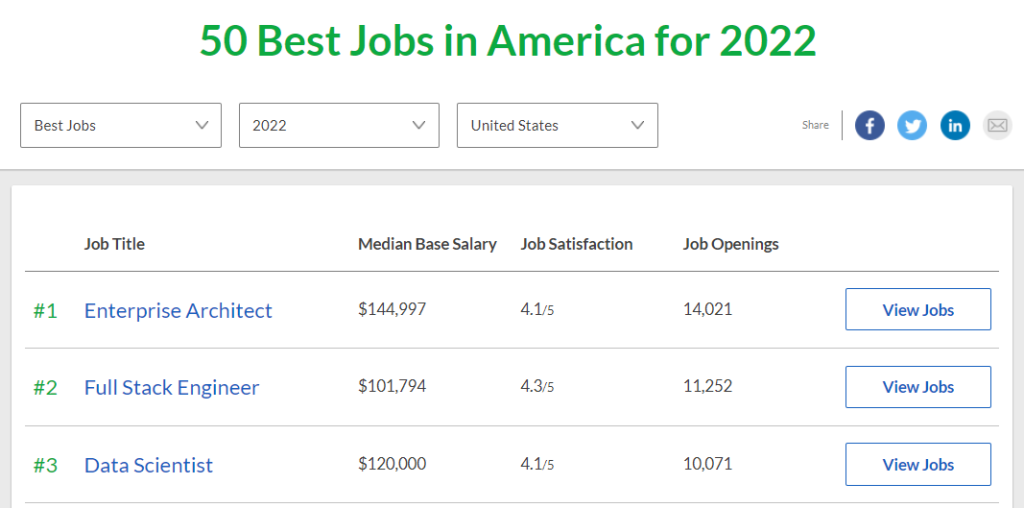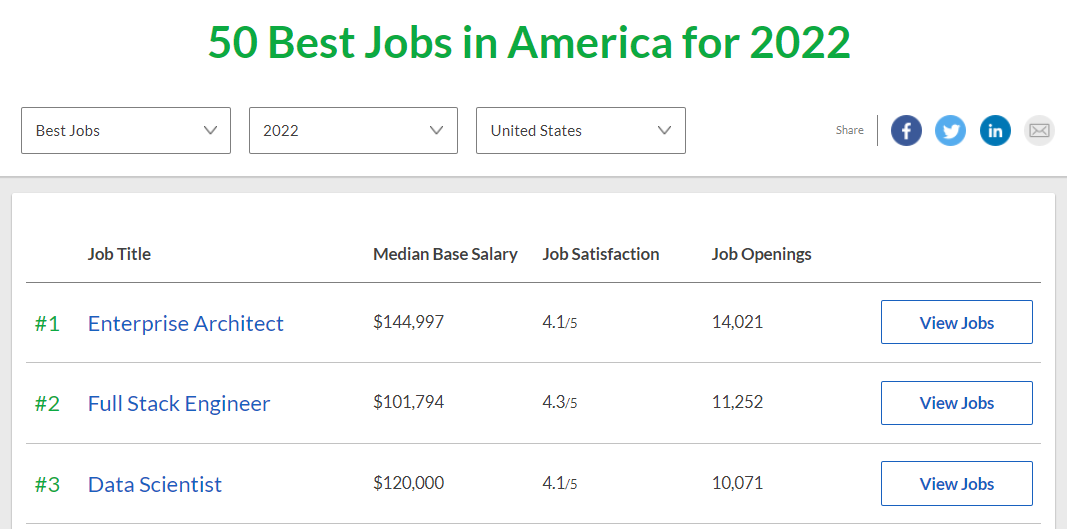 Data science become so popular that employees are moving their career to data science from analyst, business analyst, data analyst, statistician, mathematician, etc. People being graduated from CSE and Statistics are rapidly involving to data science along with some other relevant background. The popularity has attracted the concern not only for the experts but also for freshers. The race has begun and everyone is moving forward to this healthy competition.
Conclusion
It is said that, data science is the sexiest job in recent years. It says all about how people are attracting to it. Data science has a great impact in business to take decision not by brain but from data. So, all domain experts are having data scientist for their own domain to know the hidden story or their success or failure. As a result, people are trying to turn their career into data science. But we should go for it if we love it, or if we have enough knowledge about it. I think we don't need to go after it just it has popularity, we should build our career according to our ability and passion. There is a famous quote –
"Choose a job you love, and
you will never have to work a day in your life."
— Confucius
Saddam Hossain Irfan
Lead Data Scientist at Insightin Technology
About Author:
Irfan is performing as a Data Scientist for almost 3 years with expertise in data management, data analytics and data visualization. Before that he had 1 year experience of working as a Statistician.
He is managing some pipelines to manage data from Azure blob storage to SQL database. Also, analyzing huge volume of data to get meaningful insights for clients. He is also becoming handy with Azure machine learning studio. In addition, He is taking care of all of our clients' data visualization dashboard using Power BI. Moreover, He is leading the team with various project to deliver product with most precision.
He has accomplished some Microsoft certifications. He is certified for Data Platform Analytics Foundational for Data Analytics Competency, Business Intelligence for Data Analytics, SQL Server 2016 – Mission Critical and Hybrid.