CoronaVirus Crisis: How To Do Productive Remote Work
As an ever-increasing number of organizations request their employees to work from home due to coronavirus crisis, supervisors are finding themselves managing teams of workers – from afar.
There is a difference between office workers vs remote workers. Remote workers have their nice office setup at home where office workers haven't. So this is a challenge for office workers to set up a temporary office and work from home in this COVID-19 epidemic situation.
Most of us live in cities where square footage is minimal, so it is difficult to dedicate a space as a "home office." Carve out a section of your living room or dedicate a space at your dining room table, whatever you do make sure that you feel comfortable and motivated by your environment.
Also ensure the setup with your chargers plugged in, notepads, and whatever else you need to work. This will assist you with moving your mind into "work mode".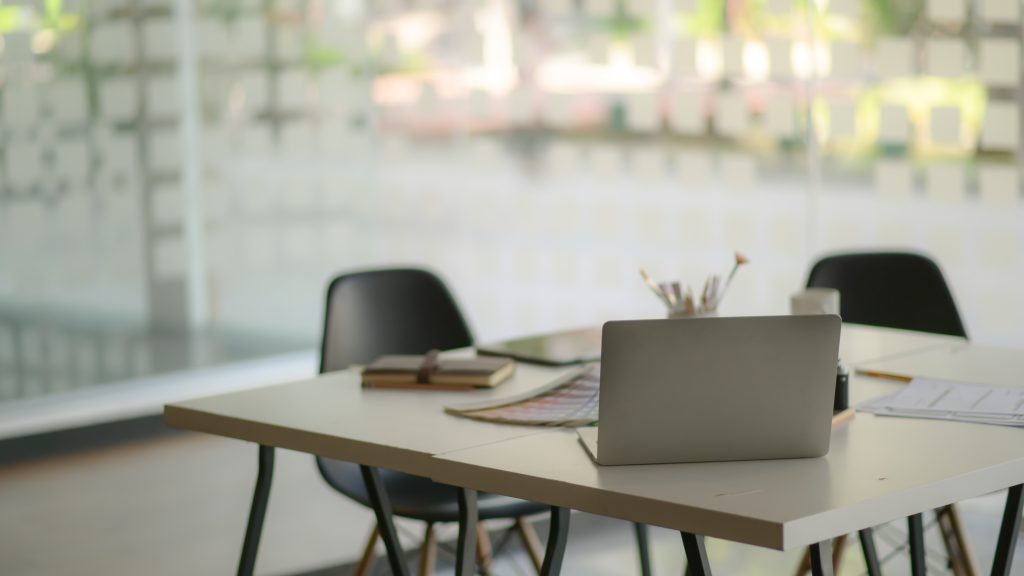 With COVID-19 on the rise coast-to-coast, Insightin Technology is now encouraging its staff to work remotely.
But how can you stay productive, creative, inspired, and live up to all the expectations that you've set for yourself?
And how can you prove to your higher-ups that the WFH life is effective?
So – here are some tips that we wanted to share with you all, who might be new to this whole "work from home" situation.
1) Setup a designated workspace
2) Ensure your tech
3) Maintain regular hours
4) Connect with people effectively
5) Eat healthy food and snacks
6) Collaborate through virtual co-working sessions
7) Leverage project management tools
8) Note your style
9) Be positive
10) Don't hesitate to request what you need
11) Manage expectations and be nice!
12) Report and Log Off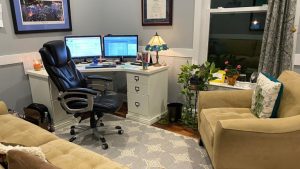 1) Setup a designated workspace
One of the large difficulties with regards to working remotely is keeping your work and home lives independent. In an ideal world, remote staff would have not only a dedicated space but also two laptops or computers (if possible), one for office use and the other for personal use.
It's progressively secure for the organizations, however not everybody incorporates a separate workplace in their home. Instead, dedicate a work area and a few peripherals just for work use.
In the event that you never completely separate from work, your work profitability will endure and your home life can endure a shot too. Try to make your workplace comfortable with a chair you will able to sit in for eight hours daily and a couple of decorations. Discover an area with great natural lighting if any chance possible.
One thing you should follow strictly while working remotely is to make sure to close all the tabs and programs related to the job as soon as you are done for the day.
2) Ensure Your Tech
No matter which internet service you are using, you must ensure a secure and consistent Internet connection in your working times. There is more however to a successful WFH setup than an internet connection, you should consider the tools you'll need to be most effective in your day-to-day. For example, an extra monitor, a wireless mouse, and even a wireless headset.
3) Maintain Regular Hours
Stick to your office hours. Follow the clear guidelines from your manager for when to work and when to call a meeting. It will help remote workers maintain a work-life balance. So, one of the advantages of remote work is adaptability, and once in a while, you have to broaden your day or start ahead of schedule to suit another person's time zone. At the point when you do, make certain to wrap up sooner than expected or stay in bed a bit the next morning to up for it.
Use automatic time-tracking apps; that let you check in on whether you're sticking to your schedule. They can likewise assist you with making sense of what times of day you're most productive versus when you slack off. You can utilize that data to your potential benefit by holding your hours of high focus for your most vital tasks.
4) Connect with People Effectively
This is something that you need to strongly push to communicate with others. It's so, so easy to rely on emails and messengers to communicate with colleagues, partners, and project managers.
But how long do you wait for a response?
How much work has been held up because you're waiting for a simple answer?
Pick up the phone and call the people you need to speak with. Or set up a video chat. You will get tons more input and feedback than relying on back-and-forth texts. And if there are a few projects you're working on with the same person, go through your list and make sure you have your questions lined up instead of having to go back in an hour because you need something else.
This will conjointly allow you an opportunity to check in with each other. You may find out that your coworker is having a crisis on their hands and this will allow you to jump in and help them reroute.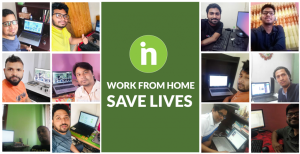 5) Eat Healthy Food and Take a Short Break
Another remote work reality is that we have full access to the kitchen. In this way, when it's the ideal opportunity for lunch or a snack break, we are quickly attracted to the typical snacks, for example, chips, cookies, or leftover pizza.
However, research has shown that eating fruits and vegetables has a direct link to overall productivity levels. You can conjointly avoid buying unhealthy snacks altogether.
Though taking breaks may appear to be counterproductive, research has indicated that taking short breaks can increase productivity and creativity levels. If you don't have a work-life balance, then you won't last too long working at home.
6) Collaborate through virtual co-working sessions
When everyone is on their schedule and busy, you might be trying to stay "normal". This is happening in a remote working situation. Also, we have a situation of panic, anxiety, fear, etc. Also, you can't just go to a coffee shop for social vibes. We are in a locked-down situation.
If you're working on a project that involves other team members, set up virtual coworking sessions, so you have your entire team together at once. This will be effective communication. Instead of waiting one day or week to compile everyone's feedback and thoughts on something, schedule a time when everyone can commit to being available to give your project attention in real-time. Otherwise, projects can get dragged out of all the communication delays.
7) Leverage Project Management Tools
There are lots of small organizations or newly founded startups that don't have any sort of project management system. So it will become a tough job to manage a project without a good project management system.
It doesn't have to be complex. It doesn't have to be used to its full extent of features. Find or suggest a tool that seems to fit with your company culture and start easy. When you're physically separated from your team, you need the extra tools to help you stay aligned.
And get a work planner for yourself. This planner will help you focus on your specific tasks, projects, and goals that you set daily, weekly, and monthly. We all have a million thoughts flying right now about what we need to do. Put it down somewhere so you can forget about it until the time is right. This will let you have a better sense of what you need to get done instead of scrambling.
Also, you must have team communication tools like Skype, Slack, etc.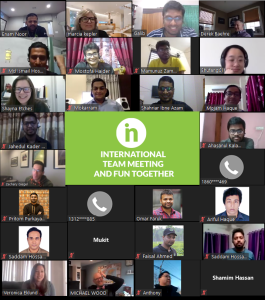 8) Note your style
Figuring out your working style early in the WFH process is the key to your success. For example, someone likes to always have music playing in the background. Someone likes to have natural sunlight hitting the office area. Someone needs silence. Maybe noise-canceling headphones should be added to your tech list!
In addition to your environment, loop in defining your best hours.
Are you a lot of productive in the morning or in the evening?
Are you motivated by a lunch hour or by smaller breaks throughout the day?
The beauty of working from home is that you can define your style, whatever it may be.
9) Be Positive
At the point when you work full-time remotely, you need to be positive, to the purpose wherever it should want you are being to a fault positive. Otherwise, you risk sounding like a jerk. It's unfortunate but true. So embrace the exclamation point! You're going to need them. Always send short and clear messages to the team that will bring positivity to you. Think about using emojis to support your intent in your declarations along with your team.
10) Don't Hesitate to Request What You Need
In case you're working from home unexpectedly due to the coronavirus crisis, request for what you need sensibly speaking. You could be working from home for weeks or months on end and you ought to be comfortable, but ordering a brand new workplace chair and table might be asking excessively.
You will also ask for what you need to get your job done comfortably, including the right monitor, keyboard, mouse, chair, printer, software, and so forth. You could also ask for a back-supporting cushion. Organizations that are familiar with remote workers typically have a budget for home office instruments.
11) Manage Expectations and Be Nice!
For the majority of the workforce, this is the first time people are working from home (For the Coronavirus issue). Everyone is learning to adjust to their new work environment, while also dealing with their families and A GLOBAL PANDEMIC. We live in such a hyper-digital world that you will receive emails, texts, and chat notifications at any hour, and it is important to set expectations and boundaries regarding your project.
BE NICE. Everyone is freaking out at some level. Everyone has been forced into a new lifestyle. And even better, show some empathy or share your experience so your coworker doesn't feel bad.
12) Report and Log Off
Ask your team project manager about any urgency before 60 minutes of your work time finish. If everything going ok then send your daily task reports and sign off your office tools like emails, PM tools, chat tools, etc.
When the world is freaking out, it's more important than ever that to reach out, connect, and take care of one another.
Happy Quarantine
Author
Shahriar Ibne Azam, Sr. Digital Marketing Specialist
sazam@insightintechnology.azurewebsites.net