Best Free Digital Marketing Tools 2020
Digital Marketing is a new whole era of Internet people are spending lots of their time & money on the internet.
Digital marketers are spending more effort in online growth & implementing a new strategy to get the best result at minimum cost, which fits in their budgets.
Digital/Online marketing is a major investment for any brand, big or small, and that investment isn't always in the form of dollars. There are dozens of free online marketing tools out there that aren't worth the time it takes to test them.
So, how do you know if you're spending your time and money on the best online marketing tools that are going to boost your revenues, increase leads and conversions, and keep business booming?
There are some best free online marketing tools in 2020 which benefit small marketers. These Best Free Digital Marketing Tools help them with improving SEO, PPC, Social Media, Email Marketing, Content Marketing, etc.
Check out our list of the 47 best online marketing tools we've found. We've even included the pricing info for you, and whether or not there's a free trial offered.
We've also broken down our list into the following categories:
Industry research
Keyword research
Content design
Landing page creation
Social media management
Analytics
Project management
Let's get started.
Digital Marketing Tools for Industry Research
The backbone of any marketing strategy is solid research on your industry and customers. Below are three cost-effective marketing tools to get you started on the right foot.
1. Data Scraper
If you're looking for contact information from professional profiles, or social media connections to support display campaigns and/or outreach, Data Scraper is the tool for you. Data Scraper is a free Chrome extension that allows you to download any form of data from a website: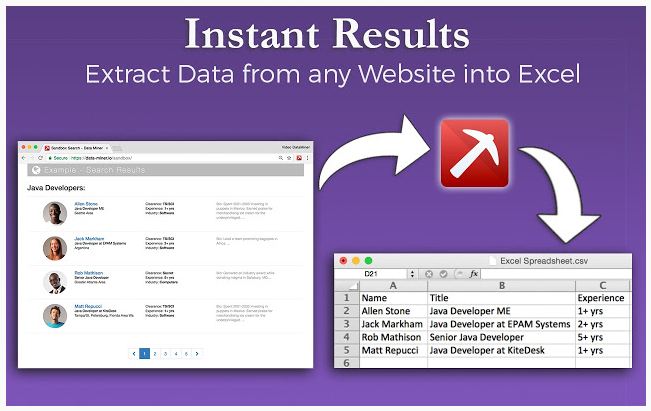 For example, you can extract names and phone numbers from an online directory. Just define your filters, and then download the spreadsheet. You get 500-page scrapes per month with Data Scraper's free tool—enough for most small to medium-size marketers.
Price: Free, with Upgrade Options
2. Think with Google
Think with Google is a tool to help you see exactly what your audience is searching for online. It shows you what searches are trending, and it offers audience insights and information about the products and brands people are looking for in a specified category.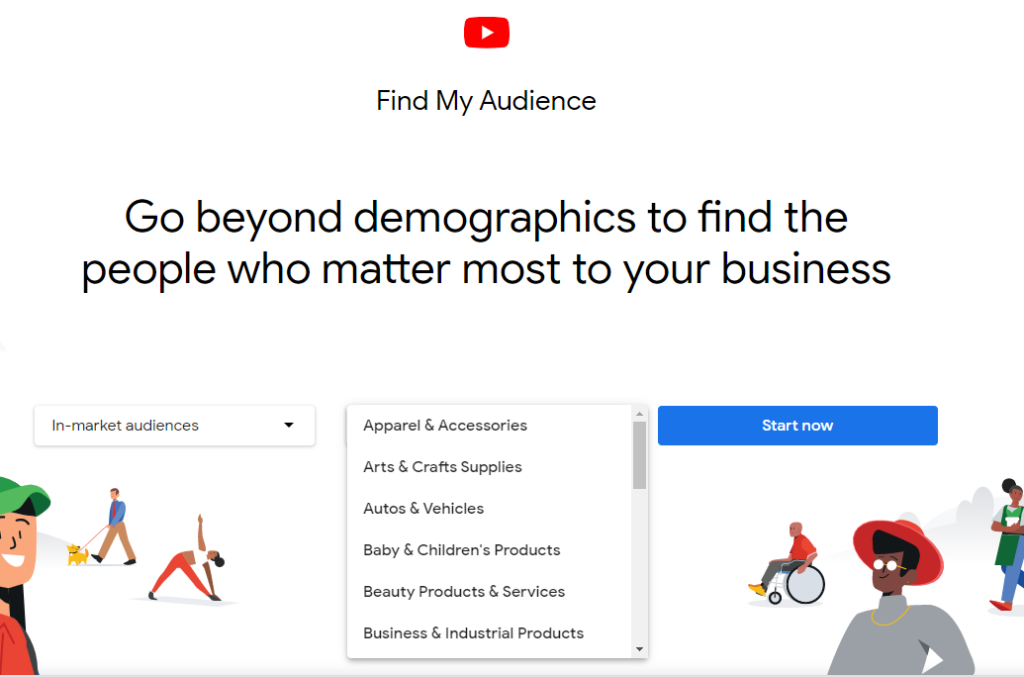 Think with Google is a completely free tool. You can sign up for email notifications to get regular updates about searches related to your brand.
Price: Free
3. Pew Research Center
The Pew Research Center has copious data on social trends, technology usage, science and many other current topics. Register and you can get access to datasets and reports with excellent charts.
Pew does a great job explaining the methodology behind its studies, with good demographic breakdowns helpful to marketing teams. Pew data can help you identify new opportunities and understand your target market.
Price: Free
4. Living Facts
Living Facts is a sister site to the Pew Research Center that can provide information to help you market to potential customers. The site says it "is about Americans today — who we are and how we live." The site has colorful image infographics, videos, and quizzes and is easy to use.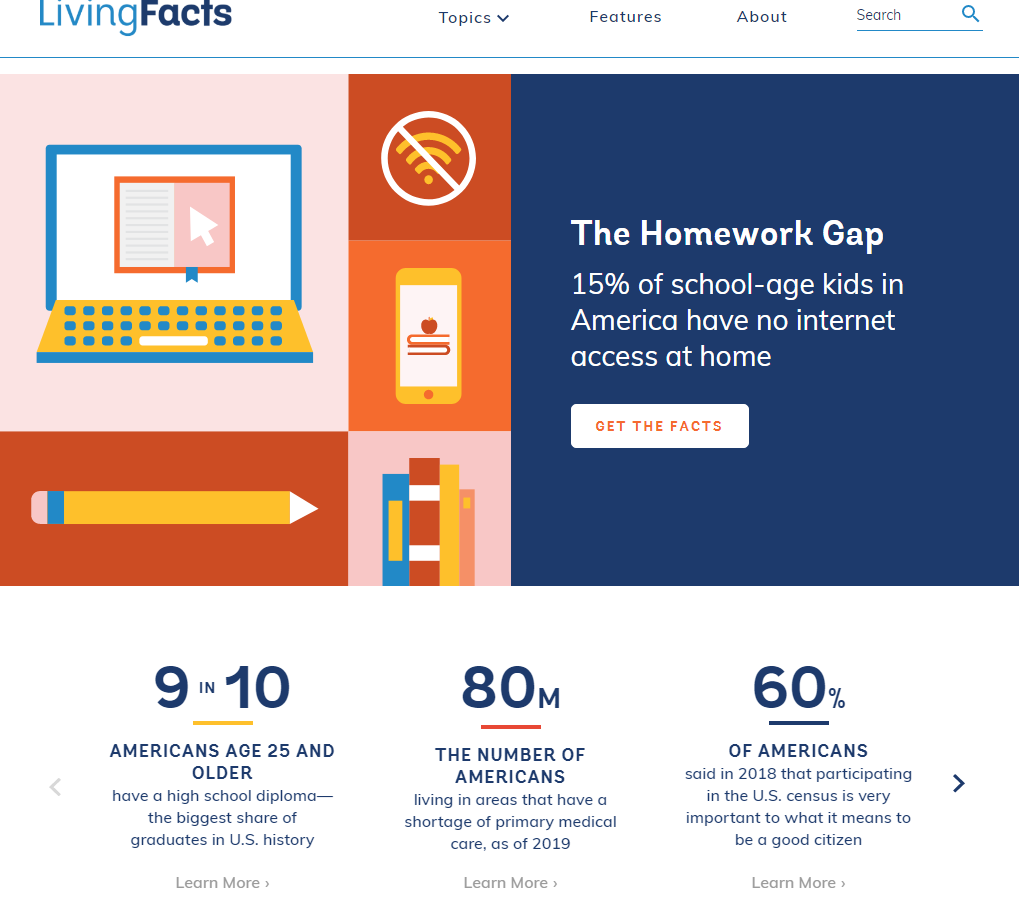 Get a snapshot of consumer trends, demographics, faith, health, work and other topics about American life for your marketing plan or campaign.
Price: Free
5. U.S. Census Business Data
The U.S. Census is a top market research tool. Census Business Builder is a source for conducting market research targeting single geography. Explore Census Data is helpful for segmenting customers by demographics.
The U.S. Census Bureau also provides Data Gems, a collection of videos to better explain how to access census data for your business. Other tools for market research from the U.S. government include:
Economic indicators: See the Consumer Price Index and Bureau of Economic Analysis for additional economic figures.
Income statistics: Find market rates of pay and similar data. Earnings by Occupation and Education and Income Statistics.
Money statistics: Find  Money Statistics from the Federal Reserve Banks.
NAICS Codes: Look up industries by the North American Industry Classification System or NAICS system.
Employment statistics: See various Employment and Unemployment Statistics from the Bureau of Labor Statistics.
Price: Free
Digital Marketing Tools for Keyword Research
Digital marketing tools are incredibly useful for figuring out which keywords to target. They can tell you what keywords your competitors are targeting and what phrases your business ranks for, and they can offer suggestions for new keywords.
1. Google Keyword Planner
Google Keyword Planner is a great tool for beginners, offering basic volume and competition data. Just enter the specific keywords you'd like to investigate, and then view the results:
Keyword Planner will show you the range of average monthly searches, and the competition level for the keywords you enter, plus it will suggest relevant keywords you can explore.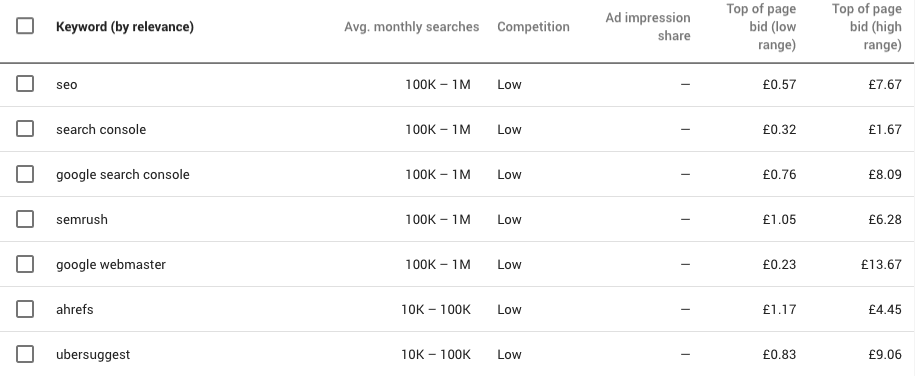 You have to set up a Google Ads account first, but you don't have to spend any money on campaigns in order to use the planner.
Price: Free
2. Moz
Moz is one of the best SEO marketing tools out there, and its Keyword Explorer is in high demand.
The platform is very user-friendly, with both numeric and visual representations of a keyword's monthly search volume, organic CTR, priority, and difficulty.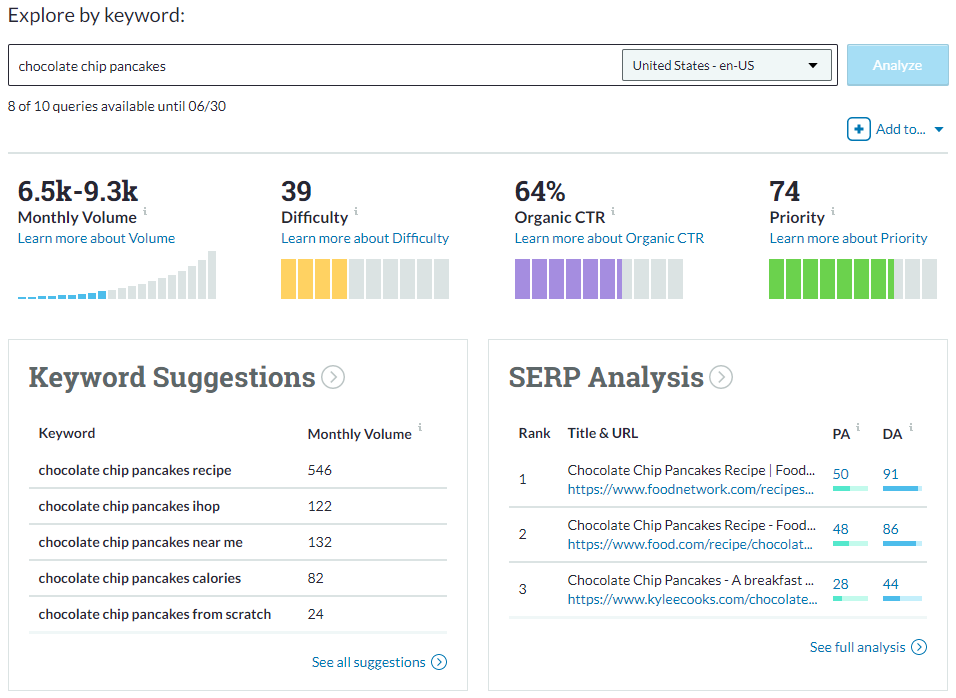 Keyword Explorer also delivers new keyword suggestions and excellent search engine results pages (SERP) analysis.
Moz's free version of the tool allows for 10 keyword queries a month.
Looking for more? Moz offers a suite of six other free marketing tools to help with your SEO goals.
Price: Free, with Upgrade Options
3. Spyfu
SpyFu helps you understand your competitors by homing in on the keywords they're targeting. Type in a competitor's URL and SpyFu will pull up how many keywords the site is ranking for, along with its ratio of organic to paid traffic and its estimated clicks per month.
SpyFu breaks down the data even further for paid keywords. It offers insights into keywords purchased by other top competitors, allowing you to gain greater industry understanding.
Price: Free, with Upgrade Options
Digital Marketing Tools for Content Design
Thanks to today's design technology, you don't need to be a professional photographer or videographer to produce high-quality content. Below are four digital marketing tools to kick your content design to the next level.
1. GIMP
Looking for Photoshop-style software without the price tag? GIMP (GNU Image Manipulation) is your tool! It enables you to retouch photos, create logos or other graphic design elements, create composite images, and more.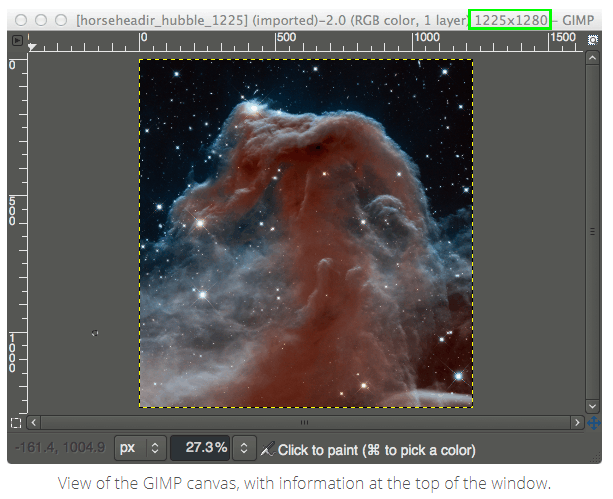 GIMP company offers tutorials for learning how to use their software.
Price: Free
2. PicMonkey
PicMonkey is great for photographers who have a low budget but want to edit portraits with tools like Smooth, Wrinkle Remover, Blemish Fix, and Teeth Whitening. These tricks are particularly helpful in Instagram ads, where the photo is the main focus of the ad.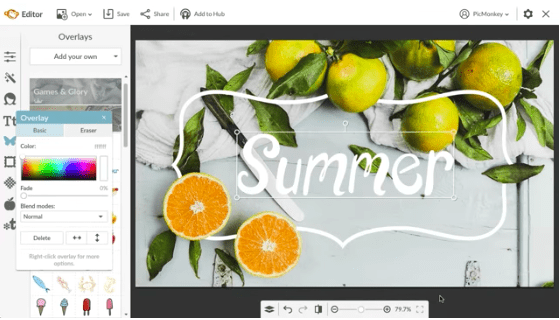 PicMonkey also allows users to add their own stickers, graphics, and logos.
Price: Free trial, with Upgrade Options
3. FilmoraGo
FilmoraGo is easily one of the best high-quality video-editing phone apps out there. It allows you to quickly trim a video clip, create subtitles and text, speed up the content, add filters, and add overlays.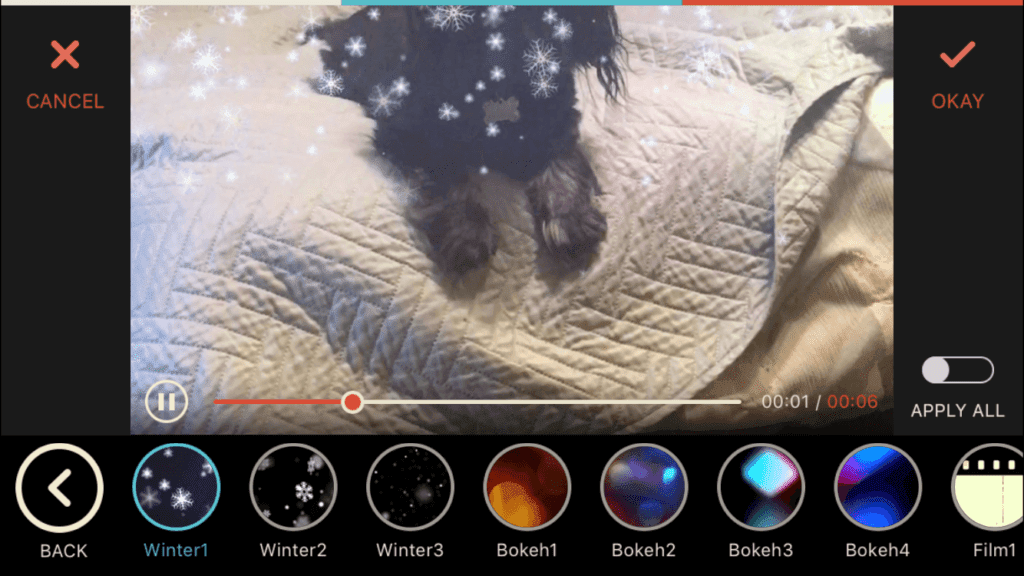 It's available for both iOS and Android.
Price: Free, with Upgrade Options
4. Canva
Canva lets you make sleek and professional-looking graphics really quickly. You can upload images, icons, and your logo to help customize the graphics you make. It is super easy to use and anyone (even people with no design experience) can quickly pick it up.
It's a great way to make branded, eye-catching graphics that get interactions on social media and show up in Google Image search."
Price: Free
5. Tube Buddy
Tube Buddy for YouTube channel management and aspects of reporting. Tube Buddy's channel backup is amazingly helpful and is easier to organize then reports straight from YouTube. We use many digital marketing tools, and layer data for reports and analyses, but Tube Buddy alone is hugely powerful.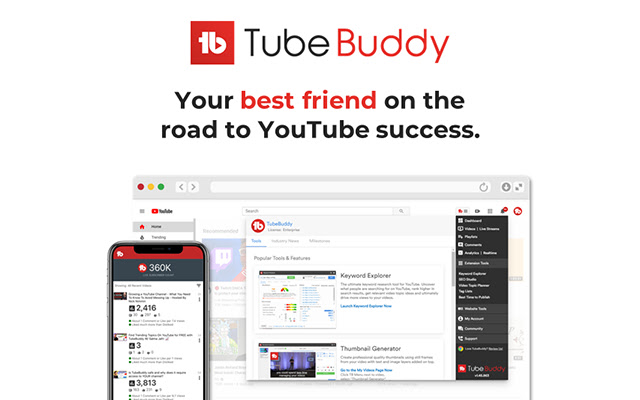 The competitors' tool helps us keep an eye on channels our clients compete with and it can let us know if they are starting to rank for search terms we target.
Price: Free
6. Powtoon
Powtoon creates awesome & professional videos for Youtube campaigns.
A tool for creating ads, animated videos, explainer videos & presentations. Many marketers are using Powtoon for different big brands.
Price: Free, with Upgrade Options
7. Evernote
Arguably, there's no more versatile tool for online marketers than Evernote.
Whether it's research notes, resources, or to-do lists, Evernote makes the research and outline process of content writing a breeze.
Price: Free for Basic; $69.99/year for Premium
8. Grammarly
Human editors are great. Built-in spellcheckers are nice. However, neither is perfect. It's good to add another layer of editing to your writing and Grammarly is the answer.
This powerful tool automatically checks anything you write or publish in an Internet browser.
Price: Free; Premium starts at $29.95/mo.
9. Piktochart
Infographics can generate high returns… if they're done properly. Piktochart can have you developing beautiful and engaging infographics, even if you have no prior experience.
Given a library of more than 1,000 images, you'll be up and running in no time.
Price: Start for Free; $12.50+/mo.
Free Tools for Landing Page Creation and Email Marketing
Landing pages don't need to be complicated. But because they are the first thing a visitor sees when they click on your ad, they need to be well-designed. That's where these digital marketing tools come in.
1. Mailchimp
Mailchimp is a catch-all landing page creation tool. It takes you from start to finish, including setting up your domain and choosing from a variety of landing page templates.
It even offers analytics on visitor demographics, clicks, and conversions.
Price: Free, with Upgrade Options
2. Gratisography
Want your landing page to amuse your site visitors and inspire them to take action? Gratisography provides free high-resolution and whimsical photos that will make a strong impression:
Using images that are counterintuitive or strange is proved to be more memorable than using generic ones. The more your landing page sticks with your viewers, the more likely they are to explore further.
Price: Free
3. SendPulse
SendPulse is a Multi-Channel Marketing Platform which offers different services on a single platform for free.
Commonly, used for Push Notification, Email Service, SMS, Viber & Web Push.
Price: Free
4. Bit.ly – URL Shortener
Bit.ly is an effective custom URL shortener.
They provide services like – Link management, API, Custom URLs.
Bitly monitors traffic through custom links & shows detailed & accurate analytics about clicks, websites, locations.
Price: Free
5. Hunter.io
Hunter.io helps you to find any type of business name searching on this platform and discover interesting contact information, such as manager emails.
It's a great platform to connect with highly influential people online.
Price: Free
Digital Marketing Tools for Social Media Management
Social media is one of the top ways for companies to build brand awareness and engage with customers. These social media marketing tools can help get your ads and content the views they deserve.
1. Hootsuite
Hootsuite has been in the business of managing multiple social accounts longer than anyone.It remains the industry standard, with compatibility across 35 distinct social media networks.
With Hootsuite, you can easily add new accounts and view and manage them all in one custom dashboard:
The tool allows you to schedule and post content across several platforms at the same time, which is an enormous time-saver. If you have a larger team, you can designate multiple users on one account.
Price: Free, with Upgrade Options
2. TweetDeck
If your marketing strategy is centered on Twitter, TweetDeck is an excellent way to manage multiple accounts.
Using the tool, you can tweet, monitor, and follow new accounts simultaneously—as well as organize and build collections and keep track of lists.
TweetDeck's multi-column layout offers a quick, user-friendly platform that allows people to keep up with timelines while tracking hashtags, keywords, and saved searches.
Price: Free
3. Buzzsumo
Buzzsumo is a powerful online tool that allows any user to find out what content is popular by topic on any website.
You should simply just info the key expression in the search bar and you'll get a rundown of the most famous presents related to the specific catchphrase.
Price: Free, with Upgrade Options
4. Mention
Monitoring your social media presence can be a challenge if you don't have a way to automate and streamline the process. This is where Mention comes in.
This tool gives you online media monitoring, social media listening, competitive analysis, brand management, and social media management.
Price: Free plan available
5. Buffer
It can take a lot of time and energy to stay on top of updating several social media accounts. With Buffer, you can manage posts for multiple social media platforms from a single dashboard.
With all of your social media consolidated in a single location you also get consolidated analytics so you know how your posts are performing across platforms. This makes it easy to see which types of content are doing well and which aren't.
Price: Free plan for a single user with up to 3 social accounts;
6. Facebook Audience Insights
If you use Facebook for marketing purposes, Facebook Audience Insights is one of the best market research tools. Use it to track engagement with your content. You can learn about the demographics and behaviors of your social media fans, or those of any other Facebook page by using.
Insights gives you a rundown of the page views on your Facebook page, post reach, page likes, actions taken on the page, and more. You can also use the "Pages to Watch" feature to identify and compare your page's performance with others in a similar niche.
Price: Free
7. Facebook Page Insights
Anyone who does Facebook marketing and advertising needs to use Facebook Page Insights.
It lets you peek behind the curtains and understand the behavior of your customers (which is valuable outside of Facebook, too).
Price: Free
8. Twitonomy
If you want a tool to track your social mention and engagement activity specifically on Twitter, try Twitonomy. You can also research activity involving other users and hashtags. You simply sign in for the basic service for free through connecting your Twitter account.
Of course, Twitter also provides analytics tools for your own account. So if you don't want to authorize another app, you can always try Twitter Analytics for social media research.
Price: Free and Paid Plans
Digital Marketing Tools for SEO
There's always room for improvement. Understanding where you've succeeded in your marketing campaigns and where you might have fallen short begins with excellent analytics.
1. Google Analytics and Google Data Studio
Google Analytics tops our list of marketing tools for analytics. Google Analytics allows you to track everything about your users—down to the minutiae of what resolution screen they're on. It's indispensable to all levels of marketers.
You can use Analytics in partnership with Google Data Studio to create unlimited reports that organize and clarify the raw Analytics data. Both are free. If you're looking for more advanced and pricier options, explore the 360 Suite.
Price: Free
2. Amplitude
If you're a product marketer, Amplitude is an invaluable tool for visualizing user journeys:
Even when your users are anonymous, you can track their behaviors to predict new-user retention. You can see where in the customer journey new users might be getting stuck and then plan new features or upgrades based on that data.
It includes core analytics and unlimited data history and user accounts, and you can track up to 10 million user actions per month.
Price: Free, with Upgrade Options
3. Facebook Analytics
With its unparalleled trove of user data, Facebook Analytics is ideal for breaking down user demographics on a granular level. You can even track the times your audience is most active.
Facebook Analytics shows you how a user is engaging with your product across mobile and web, and even how they interact with your bots.
Price: Free
4. Segment
The segment is a customer data platform for tracking how users are interacting with your products and applications. It also allows you to build user personas and apply them in retargeting campaigns.
Segment's free plan includes 1,000 visitors per month and 300+ integrations. The upgraded team plan comes with a free trial.
Price: Free, with Upgrade Options
5. SeoSiteCheckup
It is an On-Page Seo tool for your website.
SeoSiteCheckup checks & improves your web pages to perform better on Google & other search engines.
You can use it as an SEO Analysis Tool that helps you to beat your competition.
Price: Free, with Upgrade Options
6. Google Pagespeed Insights
Web performance tools provided by Google to analyze website performance & optimization for both mobile or pc.
They give a speed score to websites & various suggestions.
Price: Free
7. SEMrush
SEMrush is the most popular & widely used SEO Tool.
Mainly used as Competitor Research, Keyword Research, Organic Research, Backlinks Checker, Social Media Tracker, Site Audit, etc.
SEMrush is all in one complete SEO Toolkit.
Price: Free, with Upgrade Options
8. QuickSprout
QuickSprout helps you to learn about sites similar to yours so that you can figure out how to out-do them in search rankings.
Just enter the URL of your competitor and click on the "Login with Google" button to get started.
Price: Free, with Upgrade Options
9. Google Trends
Google Trends is another neat Google product.
This tool enables you to search for keywords based on volume and identify the potential of different short and long-tail search terms.
Price: Free
10. SimilarWeb
From an SEO and marketing perspective, something that doesn't get discussed enough is studying the competition.
With SimilarWeb, you can compare traffic between two different websites (yours versus a competitor's) and see what's happening.
Price: Free plan; Enterprise plan requires a quote
11. Browseo
Browseo can be helpful to see your website through the lens of a search engine.
Simply enter your website URL into Browseo and the tool will show you a hierarchy of particular elements. You'll learn something new every time you use this.
Price: Free
12. Siteliner
Duplicate content can be a major SEO killer. Unfortunately, you don't always know you have it.
With Siteliner, just enter a URL for a blog post or website and you'll get immediate results.
Price: Free for websites up to 250 pages
13. Sniply
Sniply is the perfect tool for driving conversions. When you share an article or piece of content, Sniply will embed your CTA so that people who open the link will see your CTA as a button on the page.
A free plan affords you a single team member and 1,000 clicks per month, along with customized themes, and email support. The basic monthly plan starts at $29/month but is discounted to $25/month if you sign up for a yearlong subscription.
Price: Free, with Upgrade Options
Free Project Management Tools
1. Slack
Slack is one of the favored communication services in business today.
It operates in channels designated for certain information, so business conversations don't get distracted or cut-off by tangents about where everyone wants to go for team lunch. It facilitates, de-silos, and focuses on collaboration between employees and teams.
It's an excellent tool for networking and meeting others in the digital marketing space, and gives you the freedom to join or leave channels as needed.
Price: Free for small or medium companies, custom pricing for enterprises
2. Trello
Trello is a content management tool that many organizations use for brainstorming and strategizing content.
The reason Trello is so appealing is that it's free for small teams and businesses, and it provides a visual way to brainstorm and schedule content online — even if your team is remote or global. Additionally, it's easy to assign multiple employees to a card, so you know who's in charge of writing, editing, or adding CTA offers to a post.
Price: Paid plans range from free to $20.83 per month for enterprise
3. Asana
Asana is a collaborative workflow management system with a visual emphasis designed to streamline and de-silo information and goals between teams.
Asana allows you to do several things:
Record and visualize projects to be completed
Map out deadlines and prioritize tasks
Assign tasks to certain team members
Identify points of friction and bottlenecks
Report on projects quickly and openly
De-silo data between teams
Price: Tiered pricing, free to $19.99/month, with custom enterprise options
If you find this article useful, please share it on social media. Please follow us on social media.