Beginner's Guide Of Search Engine Optimization (SEO)
What is SEO?
Search Engine Optimization (SEO) is a step by step process of improving the visibility and quality of a web page or a website for the users on a web search engine. It is also referred to as "natural," or "organic," results for the users' search query. It is a set of methods for increasing ranking position on search engines and traffic to your websites.
There are three main elements that go into SEO: quality of traffic, quantity of traffic, and organic results.
1. Quality of traffic refers to whether or not your core targeted audience is coming to your site and receiving the information they were looking for. So for G2, high quality traffic would be achieved by acquiring a stream of site visitors looking to buy software.
2. Quantity of traffic refers to the numbers associated with traffic. Once you have a consistently high stream of quality visits, the more traffic, the better.
3. Organic results are the pieces of content that show up on a search engine results page (SERP) because of good SEO practices. Organic traffic mostly differs from ad space on a page that sites need to pay to fill. Other types of traffic your business can generate are direct traffic, which is when the visitor has the exact URL, and social traffic, which is when someone follows a link to a page from a social media post.
How SEO works?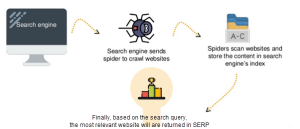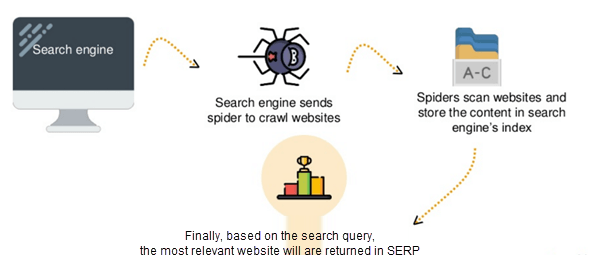 Now in this Search Engine Optimization guide, let's learn how SEO works:
Search engines are deciders. While site creators and readers have an effect on the performance of a piece of content, search engines ultimately determine what's going to rank well and what's going to tank.
Search engines can also be incredibly frustrating. You can crank out a piece of content you think is totally killer and sit there waiting for it to rank high on Google, but that day might never come. While confusing at times, there is a method to their madness, and it comes from their three step process: crawling, indexing, and ranking.
What is On-Page and Off-Page SEO And Technical SEO?
The below figure in this SEO syllabus for beginner, explains main SEO techniques:
There are mainly three types of SEO techniques used to achieve the best ranking in search engines.
On-page SEO
Off-page SEO
Technical SEO
Let's learn, all of these techniques one after another:
On-Page SEO Optimization Techniques:
In On-Page Optimization SEO method, you need to put the keyword phrase in the title tag and the meta description. You also need to have keywords phrase included inside your main content in all your webs-pages.
This method mainly focuses on website content, keyword usage in titles, headings, site structures along with internal and external links.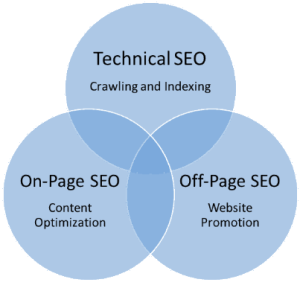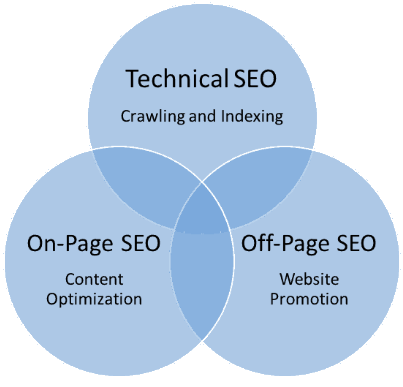 Here are some Important On-Page SEO Tasks:
Title and Meta Tags:
Titles and meta descriptions must be unique for each page.
The length should be 50 – 65 characters.
The description tag should not contain more than 160 characters.
It should naturally include keywords.
Anchor Text:
All links made by using anchor text.
Put a title on anchor text.
Use broad keywords as anchor text.
Never used exact keywords as anchor text.
Image Optimization:
Image filename should be descriptive. You can use keywords in filename.
All image must have an alt tag. Use can use keyword in the image alt tag.
Do not use a large-size image.
Internal Linking:
Create internal links using anchor text.
Link all important pages to your home page.
Include two to five internal links per page.
Content Optimization:
Content on the web site has to be fresh and unique.
Content needs to be written in small paragraphs and use of using H3, H3, H4, and bold, italics style appropriately.
Proper inclusion of primary and secondary keywords
Length on the content should not be too large or too small.
XML Sitemap:
Create XML sitemap
Mention all public URLs inside the sitemap.
Include XML sitemap in the root folder of your site.
Robots.txt:
Create robots.txt file to authenticate and stop crawler from crawling anything apart from your home page.
Off-Page SEO Optimization Techniques:
In this digital marketing method, you need to perform a specific task outside of your web-pages to increase your search engine position.
Off-Page Checklist:
It is the combination of SEO factors that cannot be directly handled by the creator of a website because he has created a backlink, post content in other related and thematic website.
Given below are some important off-page task which helps you to achieve your goal.
Guest Blogging: Guest blogging, which is also known as guest posting, is the act of writing content for another company's website. It helps site owners to increase their brand credibility and awareness.
404 Link Building: Broken or 404 link build is a white-hat, effective, scalable, content-focused link building method. It allows webmasters to replace broken links with a correct link.
Resource Link Building: A resource page is a web page on a website that lists helpful links and resources for a particular topic. In the resource link building process getting your site included on the page as one of the resources.
PDF Links: PDF link are links given in your upload PDF document. You can add links for an e-mail address, web address and reference to other pages.
Forum or Q & A sites: Q&A sites and forums are an ideal method to engage with your specific community. This activity helps you to build and SEO, develop your business brand, and increase your blog traffic.
Slide and Video Creation & Sharing: You need to create slides and video related to your website subject or topic. That you have discussed in an important web page of your website.
Link requests: Sending link requests to search websites which offering free content manually. Moreover, a user also benefits from the information available on your site.
Technical SEO:
Technical SEO is a method of optimizing your website for the crawling and indexing phase. It is known as "technical" because it does not concern the actual content of the website or with the part of your website.
The main aim of technical SEO is to optimize the infrastructure of a website. Famous online shopping portals like Amazon, Alibaba use this method to get the highest search engine ranking.
Here are some important tips/checklist for Technical SEO:
You need to specify a preferred domain in Google Search Console and WordPress
Optimize your robots.txt and 404 page
Optimize your URL Structure
Rethink your navigation and website structure
Add schema markup for breadcrumbs
Add structured data to your homepage
Add structured data to your posts
Add structured data to other pages
Check all your canonical URLs and analyze them with the help of Google analytics
Submit your XML sitemap to Google and Bing search engines
Check the loading speed of your website
Check the mobile-friendliness of your website
Check your pagination and multilingual settings
SEO Optimization Techniques
Now, let's learn the SEO optimization techniques in this SEO tutorial:
Here are some important SEO optimization techniques:
You should research keywords related to your business
Identify your competitors, utilize benchmarking techniques and identify the level of competition
Add descriptive title tags for each page
Use appropriate keywords in your content and internal hyperlinks
Use text links whenever it is possible in the content
Obtain inbound links from related websites
Learn more and more about the search engine marketing techniques
You should avoid JavaScript and Jquery
Minimizing Loading Time
Avoid Extensive use of Images Organized Navigation
Try to use web search on your website
Implement an equality link building campaign
Continue checking of rankings/or targeted keywords.
Leverage Quora to Indirectly Rank Your Content
Implement a quality link building campaign
Continues monitoring of rankings for targeted search terms
You should always look for adding Quality content
What is a Black Hat SEO and White Hat SEO?
Now in this SEO for beginners tutorial, we will learn about difference between Black Hat SEO and White Hat SEO:
Here are some major differences between Black Hat SEO vs. White Hat SEO: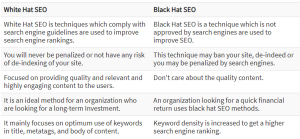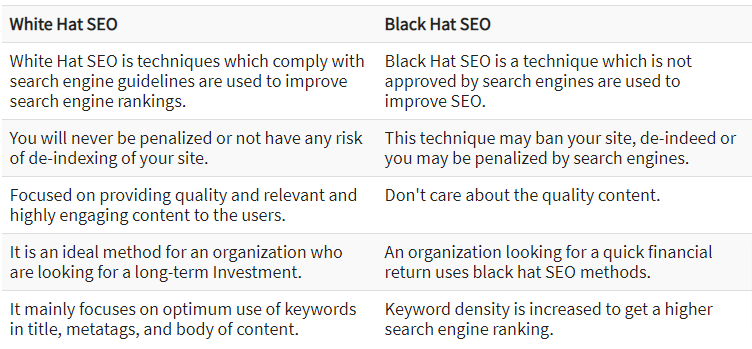 Important Black-Hat SEO Techniques Are:
Cloaking – Displaying different results to search engines and users with the aim of manipulating Search Engine rankings.
Bulk acquisition of low-quality links in a short period of time.
Repeated keyword in a blog post to boost rankings for relevant target keywords or keyphrases.
What is SEO copywriting?
SEO copywriting is the method of writing text on a web page in such a way that it is readable for the user. It also targets specific search terms. It also aims to rank highly in the search engines for the targeted search terms. Content marketing also helps you to optimizes other on-page elements for the specially targeted search terms. These include the title, meta description, keywords tags, headings, etc.
Why Is It Important to Have Quality Content?
Here are some reasons why quality content is absolutely essential for your website.
Duplicate content can be a low-quality indicator from a quality page point of view.
Boilerplate, which is mostly spun content, is another low-quality indicator.
Add something unique in your site, so other people suggest it to their friends.
Quality content inspires another webmaster to create a link of your site on their sites.
If your site visitor start trusting on your site and they look forward to the next content update and keep repeatedly visit your site.
Net users mostly click only that page whose content index look unique and interesting.
What is a Search Engine?
A search engine is an internet-based software which helps us to search an index of documents for a certain definition, phrase, or text. It is mostly used to refer to large web-based search engines that search through billions of pages on the internet.
Search engine function in four different parts:
Crawling
Indexing
Relevancy
Retrieving results
Crawling – The process starts with crawler, which reads all the information from the webpage in the website.
Indexing: This method index your web page and its linked pages in search engine results.
Relevancy: In this next process algorithm, compute the relevancy of website pages in its index to the search string.
Retrieving Results: In this step, you will get the result of your web pages according to a relevant search query.
Latest Google SEO Updates and Algorithm Changes
What is Google BERT?
Google BERT update uses BERT models for better understanding of the user search queries. This update mainly affects search rankings and featured snippets. The full form of BERT is Bidirectional Encoder Representations from Transformers.
What is Google Penguin?
Google Penguin is another algorithm update that was first announced on April 2012. The update was mainly aiming to lower the search engine rankings of websites that breach Google's Webmaster guidelines. This is mostly done by using various kinds of black-hat SEO techniques.
What is Google Panda?
"Panda is an algorithm which mostly applied to sites overall and has become one of the most vital ranking signals. It measures the quality of a site. This update tells Google to take quality into account and ranks it accordingly.
Google Panda updated also aims to rate the quality of your pages and website. It is based on things about your site that Google can rate and recognized your algorithm.
What is RankBrain?
RankBrain is another important machine learning-based search engine algorithm which helps Google to process search results to offers highly relevant search results for users.
RankBrain mainly aims to help Google to refine queries. However, it is also used to help rank web pages.
Important Google updates
Fred – SEO updated which checks low value and repeated content
Panda – Check duplicate or thin content
Penguin-Poor backlinks
Hummingbird – Search intent, than literal search
Pirate – This update checks software and digital media piracy and mobile-friendliness
Pigeon – Check for the preference of the local results
What is Mobile SEO?
Mobile SEO is a process of designing a website to make it suitable for viewing on mobile devices of different screen sizes which have lower bandwidth. Apart from all the rules which are an application for the desktop website. However, you need to take some additional care while designing a website for mobile devices.
Important attributes for mobile-friendly websites are:
A good mobile website should have a responsive design
The contents of a mobile website should be readable without having to zoom the screen.
The mobile SEO friendly site should have appropriate fonts, colors, and layouts.
It should have buttons that can be easily interfaced with the help of your finger.
The mobile-optimized site should have important links which are displayed on the Home Page so that they get enough visibility.
Recent Algorithm Changes
Algorithm changes in 2021, is centered around the user experience and user-friendliness of the website. An algorithm change is usually similar to 'community service' for the business impacted negatively.
If your pages were not designed according to recent white hat SEO methods, then Gooogle will identify this and lower your site rankings.
Google will continue to do so until you clean your pages up. However, if Google thinks your links are manipulative and using a spamming method, they want them cleaned up, too.
Advantages of SEO
Here, are important benefits\ pros of using SEO:
SEO is the easiest method which helps you to make your site visible
Various SEO techniques help you to get more traffic on your websites.
The most effective way for the branding of your product on Google.
Increase visibility on Search Engines.
Convert a local business into International Business.
SEO methods allow search engines to find out what each page is about and how it can use for users.
Disadvantages of SEO
Here are cons/drawbacks of using Search Engine Optimization:
SEO is a slow process, so sometimes it took months or years to get the desired result.
Not a very transparent process so there are plenty of things to consider for measuring it.
There are so many things which are not in your control, so it requires constant efforts & optimizations.
Combination of skills – tech + content + analytics
Helps You to Measure the Success Of SEO:
Keyword ranking.
Website traffic.
Creating an impression of your website.
Increased Revenue/keyword.
Lower dependence on Paid Search.
Lowering the cost per acquisition.